The first revolutionary bio-remodelling "injectable skincare" that addresses skin laxity and signs of aging through the bio-stimulation of collagen, elastin and adipocytes (fats) stem cells that was lost through skin aging.
Suitable for the following situations:
Saggy face, lack of volume and firmness
Dry and dull skin
For anti-aging, firming and lifting
Neck lines
Saggy cheeks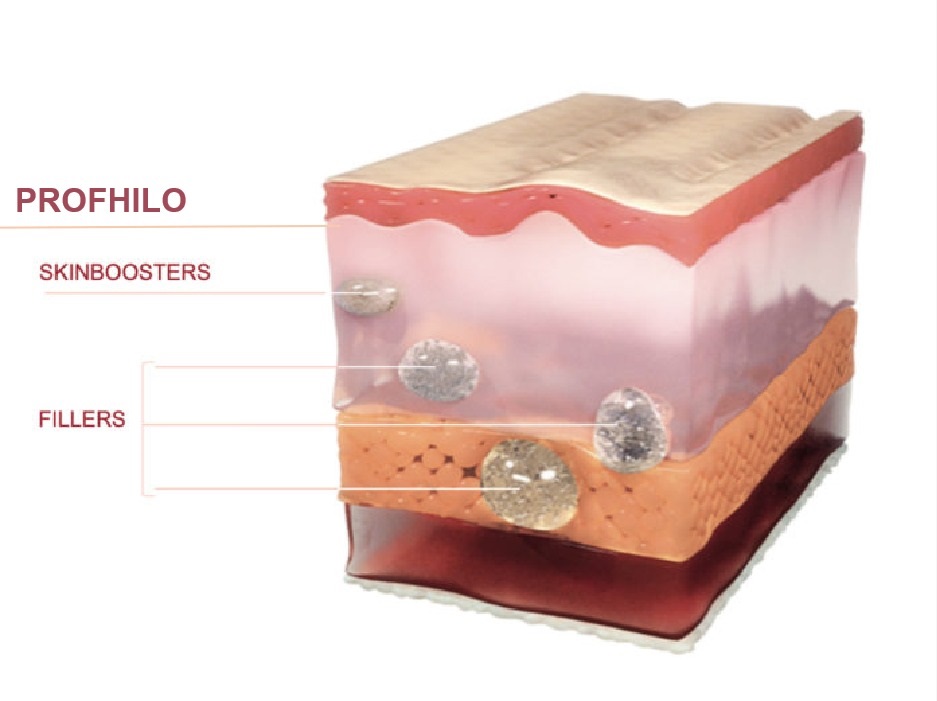 Skinboosters uses the principle of replacing lost hyaluronic acid in our skin to restore hydration and elasticity. The treatment involves tiny injections of a low viscosity HA filler, such as Restylane Vital or Vital Light, into the mid layers of the skin.
Fillers, on the other hand, are designed to replace lost volume or fill up folds. They are generally injected deeper into the skin. Dermal fillers such as Restylane, Juvederm and Belotero are also made up of hyaluronic acid. To ensure they are firmer, and last longer, the HA molecules are modified by adding cross linking agents – the most common being 1,4-Butanediol diglycidyl ether (BDDE).
Profhilo, although also made up hyaluronic acid, is a very different treatment from either skinboosters or dermal fillers. It is used to improve the skin, rather than add volume. However, the treatment process, effects, and technology differ greatly from traditional skinbooster treatments. At the heart of the treatment is a unique hyaluronic acid molecule called the Hybrid Coorperative Complex (HCC).
It can be used on the face, neck, chest and hands.
After a face to face consultation with our Doctor, Profhilo is injected using a unique specalised technique called BAP (BIO AESTHETIC POINTS). The BAP technique is 5 entry points of injection for each side of the face. The injections are designed away from the important structures of the face and there are less injections than standard skin boosters, which reduces the risk of bruising and pain.
To achieve the best results you will need usually two treatments spaced a month apart, very occasionally a third may be needed.
Downtime
There is minimal down time and in most cases you will be able to return to normal activity and work afterwards. There may be some redness or swelling which usually subsides in 48 hours.
The Results
Improved skin tone, texture, elasticity and firmness with increased hydration and radiance. The result is healthier, softer and smoother skin.
Who is Suitable for Profhilo?
Profhilo is suitable for anyone with mild to moderate skin aging who wishes to improve their skin texture, hydration and tighten skin. It works best when the signs of aging are just beginning to show – in a patient with some mild skin laxity and mild fine lines.
Profhilo is very suitable in men as it works well on thicker male skin, and it does not feminine masculine features (unlike fillers and Botox when done poorly).
Can Profhilo Be Combined with Other Treatments?
The short answer is yes! Profhilo can be safely combined with energy-based devices. In fact, it works best, when combined with fillers – the fillers will replace lost volume, while Profhilo finishes the job but restoring youthfulness to the skin.
Profhilo is finally in Malaysia after a long wait, and I cannot wait to see the results on my patients!
The process is simple and fast, involving distributing the 2cc Profhilo® by injecting 0.2cc into each 10 spots of the face.
The entire injection process will take about 5 minutes, no significant downtime.
After procedure, you may go back to your normal daily routine. Minimal swelling at the injection spots will resolve within few days.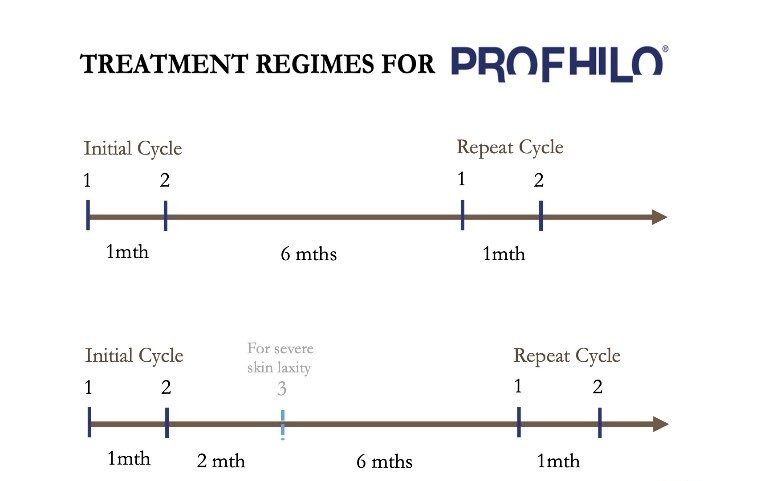 Each treatment requires 2 sessions, one month apart.
You may repeat this treatment every 6-9 months.